This update for SfBS 2019 is build 7.0.2046.385, up from May's 7.0.2046.369. It updated ten components on my Standard Edition Front-End, and also uninstalled the now-obsolete Skype for Business Online PowerShell module.
What's Fixed?
Heaps!
What's New?
Nothing noted. No cmdlets have been added to the SfB module in this update.
What's Changed?
Nothing noted.
Download
Installation
Here's the "before" view of it going on to my Lab's Standard Edition Front-End: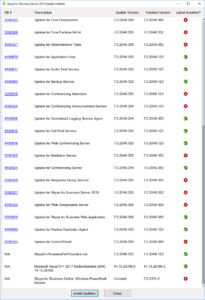 Don't forget to run bootstrapper, as there's an update to the Modern Admin Control Panel (MACP) in this update. You'll usually find bootstrapper in C:\Program Files\Skype for Business Server 2019\Deployment.
Reboot?
The installer didn't prompt me to reboot, but I always like to give it one for good measure.
Revision History
14th December 2021: This is the initial release.
– G.