CU3 for Skype for Business is in some regards a doozie! Microsoft has finally relented (much, I'm sure to the chagrin of various software vendors) and baked "Busy on Busy" into the product. "What's that" you ask? Read on & follow the links, or wait for my next post on the subject.
This update takes the server from 6.0.9319.235 to 6.0.9319.259.
What's Fixed?
What's New?
The June 2016 cumulative update adds the following new features to Microsoft Skype for Business Server 2015:
Kb3170163 Video-based screen-sharing (VBSS) is available in Skype for Business Server 2015
Kb3170171 Multiple emergency numbers can now be set in location policy in Skype for Business Server 2015
Kb3137160 Busy Options (Busy on Busy and Voicemail on Busy)
Offline IM. (Check for the new "set-CsImConfiguration" & companion new, remove & set commandlets)
Download
Installation
Here's the "before" view of it going on to my Standard Edition Front-End: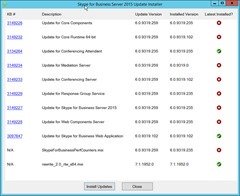 A Reboot?
This update doesn't automatically reboot the server when it completes – but I gave it one for good measure.
Revision History
30th June : This is the initial release.
– G.