Sonus introduced "Fax Tone Detection" in the SBC 1k/2k v6.1.1 b459, but it has a glitch in it: turn it off and you'll get 1-way voice.
From their online documentation: Fax Tone Detection
Specifies whether or not the Sonus SBC 1000/2000 system will detect Fax tones produced by the terminating side fax machine. Fax tone detection(V.21 flags) is used when Fax calls are received from TDM to a Fax server and the voice call needs to be switched to a Fax call using T.38. If Fax tone detection is enabled, the  SBC Edge detects the Fax tone from TDM and switches to Fax mode (it will initiate a re-INVITE with T.38 support to the Fax Server). If Fax tone detection is disabled, the  SBC Edge will pass-through the Fax tones to the Fax server and the Fax server will have to detect them and initiate a re-INVITE to switch to Fax mode with T.38.
I've encountered this with ISDN to the carrier feeding SIP to SfB, and from a SIP carriage service to an ISDN PABX. The fix is to ensure Fax Tone Detection is set to Enabled on the Media List. The issue doesn't manifest itself for SIP-SIP calls.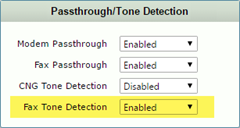 The issue has been documented as SYM-23041 and is due to be fixed in a future release.
– G.