The CU3 update for Lync Server 2013 has landed, and at first glance there's at least one high-visibility fix. My Front-End adds updates to 9 different components.
What's Fixed?
There's not a lot of detail provided – instead the descriptions are almost entirely "The cumulative update improves the reliability, stability, and performance of Lync Server 2013 <component>".
2882803 Mediation server can't forward call history headers when a forwarded call number has an extension in a Lync Server 2013 environment
2882800 You can't dial out or share video in a Lync Web App meeting in a Lync Server 2013 environment
What's New? Operator Assistance for Dial-In Conferences!
2882802 Update that enables the "operator assistance" feature during a PSTN dial-in conference in a Lync Server 2013 environment

This update enables administrators to provide support for the *0 Dual Tone Multi Frequency (DTMF) command in a public switched telephone network (PSTN) dial-in conference in a Microsoft Lync Server 2013 environment. After the update is installed, a PSTN caller is able to be transferred to an operator number that the administrator defines.
To enable this feature, the administrator must provide a valid help desk telephone number in the OperatorLineUri parameter by using the New-CsDialInConferencingDtmfConfiguration cmdlet or the Set-CsDialInConferencingDtmfConfigurationcmdlet.
Here's what it looks like:
PS C:> Get-CsDialInConferencingDtmfConfiguration

Identity                          : Global
CommandCharacter                  : *
MuteUnmuteCommand                 : 6
AudienceMuteCommand               : 4
LockUnlockConferenceCommand       : 7
HelpCommand                       : 1
PrivateRollCallCommand            : 3
EnableDisableAnnouncementsCommand : 9
AdmitAll                          : 8


OperatorLineUri                   : tel:+61270001237
Server Update
The update takes the server to "5.0.8308.556":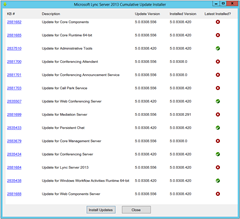 Consistent with most CUs these days, the installation process requires a reboot to complete – and database changes too.
What the?
Ew! My Control Panel is now in Times Roman. (I've rebooted to no avail – will try an uninstall/reinstall later). Let me know if you encounter the same thing! (Since confirmed elsewhere: thanks Tristan!)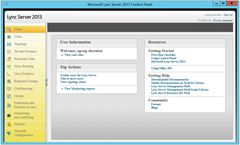 Download
Download it from HERE and read all about it in the KB article HERE. As has become the norm, you'll need to update your databases too.
Don't forget, you'll always find the latest updates and all the documentation and support utils on my Lync 2013 Resource Toolkit page.
– G.