This post is obsolete. 'Profiles' has been replaced by bounSky!
---
This post is WAAAAY obsolete. ;-) The latest Profiles post (1 Jan 2015) is here: https://greiginsydney.com/p4l-sticky/.
---
A free multi-user account management application for Lync.
If you're following my exploits here you might have seen my "C-Change PHP" application, and the accompanying disclaimer "I'm not a programmer".
I'm also not a C# programmer, and until a couple of months ago I'd never seen it before – and not programmed anything vaguely C-shaped since Granville TAFE almost 20 years ago, back in DOS where using ANSI colour was considered adventurous.
Still, with my usual stubbornness and determination (and plenty of help from several of my friends and the members of the Lync API forums) I've written "Profiles for Lync" ("Profiles", or P4L for short).
This app fills what has been to date an annoying gap in the feature offer, especially for partners/integrators: with P4L it's as easy as clicking a button to logout of Lync and log back in with another set of credentials – and even into another system!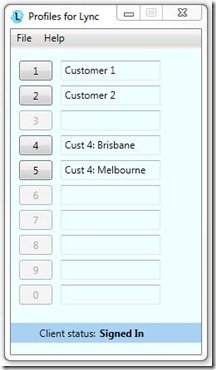 You can leave P4L running (sitting on the task bar or in the tray), or just launch it with a keyboard shortcut and then close it when you're done.
The Setup screen shows all of the options you have available, including the choice of manual or automatic DNS, "stealth mode", and what to do once connected or when minimised.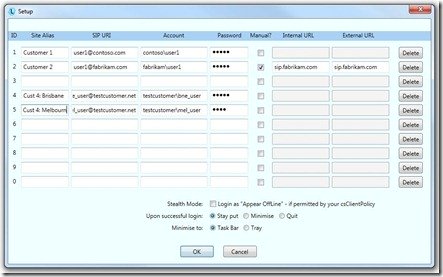 You can download P4L from here.
The current version is a public Beta, and I hope to follow with a formal release by the end of the year. It's freeware, and I make no guarantees as to its ability to perform any given task, and accept no responsibility for any damages it may cause.
It's been tested with x86 XP SP3, x64 Windows 7,  and even the developer Beta of Win 8. Your feedback – whether bugfix or feature enhancements for v2 – are more than welcome.
Known issues with this release:
Version 1.0.0.16 (first public Beta) – 27th November 2011
SignIn doesn't happen when toggling from Auto to Manual DNS
If you are signed-in as a user with Automatic DNS settings and then click to change to an account with Manual DNS settings, Profiles will not sign you in. It signs you out and updates the credentials to those of the selected account, but fails the sign-in process. The same applies in reverse.
Workaround: Click the same account number again in Profiles, or click "Sign In" on Lync.
The Status reported by Profiles isn't correct
There are some scenarious where Profiles fails to display the correct user status. If you exit Lync, Profiles will stick at "Signing Out". The status also doesn't correctly update during the Signing Out / Signing In process.
Workaround: None.
"Lync is attempting to connect to…" / "Try another server"
This box will pop if Lync finds Lync DNS records but the domain suffix of the server doesn't match that of the user's login. This is most typically encountered in environments where the server is installed in a ".local" domain, but the users login with their e-mail account.
I've not been able to suppress this box programatically, so if it pops you'll have to respond to it yourself.
Workaround: Click "Connect" or "Try Another Server" as appropriate. If you're only ever logging into the same Lync deployment (i.e., using different accounts for testing) then setting your Front-End server's FQDN as a Trusted Site in IE will suppress this box. Beware though: if you then try to login to another Lync deployment you'll always find yourself talking to your local Front-End, which will of course reject your foreign credentials.
– Greig.