As with my previous post, this update so soon after the last looks to be brought to you by Apple and the number 9.
This update takes the server from 5.0.8308.927 to 5.0.8308.933, with 6 components affected.
What's Fixed?
This cumulative update resolves the following issues:
Kb 3097592 You can't join a meeting from outside Lync 2013 for iPhone or Lync 2013 for iPad on iOS 9
Kb 3083356 The RgsClients/Tab.aspx webpage times out when you restart a front-end server or update a topology in Lync Server 2013
Kb 3083355 High CPU usage after you publish a changed topology in Lync Server 2013 that has the Response Group Service run
What's New?
Nothing apparently.
Download
Installation
Here's the "before" view of it going on to my Standard Edition Front-End: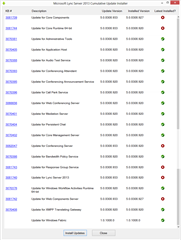 Reboot?
Yes!
Revision History
2nd October: This is the initial release.
– G.