This update takes two components on the server from 5.0.8308.941 to 5.0.8308.945, although – as with the December update that gave us .941 – I'm still struggling to see the point of one of them.
What's Fixed?
It looks like the sole (documented) fix is for the Web Components and relates to the "You can't join a meeting … on iOS 9" issue we first saw patched in the October update as Kb 3097592. It seems iOS 9.2 broke it again, and thus we now need Kb 3126487.
Kb 3126638 (Web Components server).

This cumulative update resolves an issue that prevents you from joining a meeting from outside Lync 2013 for iPhone or Lync 2013 for iPad on iOS 9.2.

Kb 3126637 (Core Components).

This cumulative update resolves the issues that were previously discussed in the following Microsoft Knowledge Base articles…
What's New?
Nothing apparently.
Download
Installation
Here's the "before" view of it going on to my Standard Edition Front-End: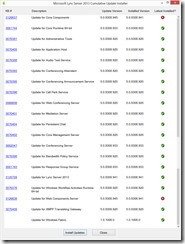 Reboot?
No – but I gave it one anyway.
Revision History
7th January: This is the initial release.
– G.