Since paying US$8.5Billion for Skype back in 2011, Microsoft's been slowly absorbing its technology into the existing Lync product. Last year we saw Federation between Skype and Lync (albeit with some caveats), this year it was the inclusion of Skype's "SILK" codecs into the Lync clients, and now today it's official: "vNext" of Lync (to be released next year) will be "Skype for Business".
Here's the official announcement.
Matt Landis has written a great post on the subject, collating the publicly-available information into a nice features list.
And here's a sneak peek of the new client: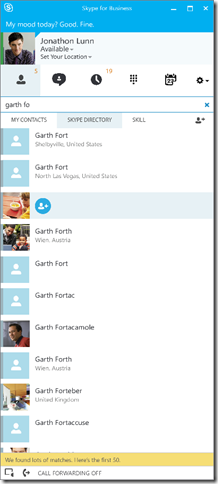 2015's shaping up to be a fun year! Stay tuned!!

– G.