The US has started their Independence Day celebrations a couple of days early with the release of CU2 for Lync Server 2013.
New Functionality
THIS post on the Lync Team Blog that explains the new features that snuck into this update:
Embedded Images – Add images in-line with text during one-to-one conversations.

Meetings View – View the day's meetings from Meetings View in the Lync client main window.

IM Mute – Presenters may disable use of the conversation window during a scheduled meeting.

Q&A Manager – Presenters can review and respond to meeting questions in a structured way.
Server Update
I'm a little excited by this one – mostly because the update KB article includes a DETAILED list of installation steps, where previously there has been some ambiguity (particularly around the database updates).
The update takes the server to "5.0.8308.420":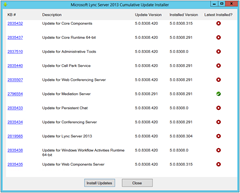 (Click the image for a view you can actually see!).
Note that several of the updates mandate a reboot: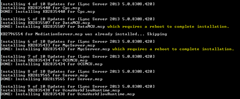 There's a bit in this one (as the upper image would suggest) although the improvements to every component aren't itemised for us. Of the ones that are, here are what I think are the highlights:
2853996 Users of IE6 or IE7 running on XP or Vista cannot join a Lync Server 2013 meeting (There's an IE6?)
2846478 Display names of federated contacts do not appear in a Lync Server 2013 environment
2854647 You cannot sign in to a dial-in conferencing webpage in Google Chrome by using IWA (Integrated Windows Authentication) in Lync Server 2013
2846489 Lync Server 2013 RGS incorrectly redirects a call to the queue overflow call action
2846479 User in a DG cannot join a chat room in a Lync Server 2013 environment
Download
Read more about it HERE – including the installation process, and download the installer from HERE.
As always, you'll find the latest updates and all the documentation and support utils on my Lync 2013 Resource Toolkit page.
G.