Just to keep us on our toes and to confuse those of us who – like Andrew – keep a rolling "CU" count of updates, Microsoft's just released the third server update for Skype for Business 2015 and officially labelled it  "CU1". I know; just go with it.
This update (Kb3061064) takes the server from 6.0.9319.88 to 6.0.9319.102, with lots of components affected.
What's Fixed?
The Kbs contain lots of broad-sweeping "this cumulative update improves the reliability, stability, and performance of Skype for Business Server 2015" without going into detail. These are the named fixes:
What's New?
Shared Line Appearance – SLA
SLA's a fantastic new acronym we'll be experimenting with for a while. I won't go into it in a great deal of detail right now because I've already been beaten to the punch by the likes of Richard Brynteson and Matt Landis. Check out their posts for detailed how-to's and screen-grabs.
Suffice to say that "SLA" brings what we in Australia would call "Commander-style" (aka "key-station") functionality to SfB. It's only available on the VVX family at the moment, and won't be retrofitted to the LPE/Aries devices, nor the desktop client. To say it's going to revolutionise Boss/Secretary handling is no understatement.
A bunch of new PowerShell Commandlets
These are all new with this release:
Add-CsSlaDelegates
Get-CsGroupPickupUserOrbit
Get-CsServerPatchVersion
Get-CsSlaConfiguration
New-CsGroupPickupUserOrbit
Remove-CsGroupPickupUserOrbit
Remove-CsSlaConfiguration
Remove-CsSlaDelegates
Reset-CsNotificationQueues
Set-CsGroupPickupUserOrbit
Set-CsSlaConfiguration
Get-CsServerPatchVersion might render one or two scripts obsolete. Here's the "after" view of its output on my SfB Edge:
PS C:\> Get-CsServerPatchVersion

ComponentName                                               Version
-------------                                               -------
Skype for Business Server 2015, Core Components             6.0.9319.102
Skype for Business Server 2015, Edge Server                 6.0.9319.102
Skype for Business Server 2015, Performance Counter Cumu... 6.0.9319.102
Skype for Business Server 2015, XMPP Translating Gateway... 6.0.9319.0

PS C:\>
What's Not Fixed?
There are two ongoing server-side bugs I'm aware of:
What's been Removed?
Kb3097645 adds Note: Server-side conversation history in branch site deployments is no longer supported in November 2015 cumulative update 6.0.9319.102.
Download
Installation
Here's the "before" view of it going on to my Standard Edition Front-End: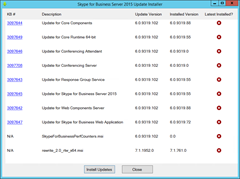 Revision History
22nd November: This is the initial release.
– G.