This month's security update touches just about everything in my world it seems, and of course Skype for Business 2015 Server is no exception:
Kb3089952: Vulnerabilities in Skype for Business Server and Lync Server could allow elevation of privilege: September 8, 2015
To learn more about the vulnerability, see Microsoft Security Bulletin MS15-104.
This update takes the server from 6.0.9319.55 to 6.0.9319.72 – although there are only three components affected.
What's Fixed?
This cumulative update resolves an issue in which KB3095143 Windows 10 users who use Edge can't join a meeting from Skype for Business Web App.
What's New?
Nothing apparent just yet.
Download
Installation
Here's the "before" view of it going on to my Standard Edition Front-End: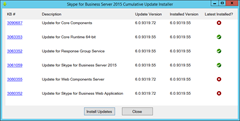 Revision History
14th September : This is the initial release.
19th September: Added the "Edge" fix to the "what's fixed" list. (Thank you @kevinwbird).
– G.