Hot on the heels of last month's update to 7.0.2046.521 comes another.
Today we see build 7.0.2046.524, which updated three components on my Standard Edition Front-End.
What's Fixed?
All three components updated contain the same fix:
5030100 Disable Legacy Control Panel (CSCP)
What's New?
The above fixes support the replacement of the old "CSCP", the Communication Server Control Panel – a name that goes back to before Lync was Lync – with the Modern Admin Control Panel (MACP).
The story is documented in the article Disable Legacy Control Panel (CSCP).
After you run the PowerShell script included in the above article, launching the old CSCP instead pops a browser and the MACP.
The script includes an uninstall option if you want to revert.
Any new Commandlets?
Nope.
What's Changed?
Nothing (else) noted.
Known Issues
After you uninstall this update, the standard MACP user sign-in URL ("https://<your pool FQDN>/macp") fails. Instead, you have to use the following URL to sign in to MACP:
https://<your pool FQDN>/macp/
Note the now critical trailing slash. I tested this without the trailing slash and it worked, so I don't know if this is an old notice that's now obsolete, or still relevant in some scenarios. One to note regardless.
Download
Installation
Here's the "before" view of it going on to my Lab's Standard Edition Front-End: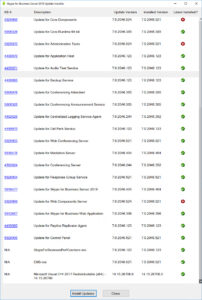 Reboot?
The installer didn't prompt me to reboot, but I always like to give it one for good measure.
Revision History
3rd August 2023: This is the initial release.
– G.