We've hit another milestone with the arrival of the first update for the Skype for Business 2015 Server. This update takes the server to your choice of either 6.0.9319.45 (as described in the KBs) or 6.0.9319.55 (as described on the download link and visible in the image below).
What's Fixed?
A few hot buttons have been addressed here:
What's New?
Nothing apparent just yet
Download
Installation
Here's the 'before" view of it going on to my Standard Edition Front-End: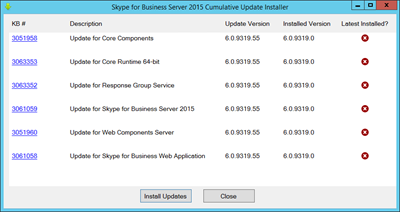 … and yes there's a restart required:

Revision History
22nd June: This is the initial release.
– G.