I've noticed a few of my Lync installations are intermittently having problems generating an Address Book, reporting Event ID 21022 on the Front-End.
The event description is claiming the Full file is corrupt and can't be used to create a Delta file. Furthermore, it goes on to blame a GUID, which turns out to be an ordinary user. (The same one every time).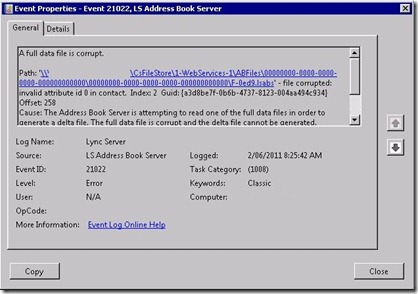 I don't buy it.
If you delete the full file and run Update-CsAddressBook it is able to reinstate the file without issue.
The interesting factor to note here is that all of these systems are Enterprise Edition – none of my Standard Editions are experiencing this problem. So I reckon it's an issue with the Share. I'm keeping an eye on it and I'll update this post if I get anywhere with it.
G.