It's a relatively light update for Lync Server 2010 this quarter, but there are still some interesting fixes in there. This update takes the server up one increment, from 4.0.7577.216 to 217. (The current client update is last week's hotfix release, taking it to 4.0.7577.4392. That's HERE).
Of interest to me in this update:
2796754 User cannot download contact list by using a mobile device in Lync Server 2010
2861308 Response Group Service redirects incoming call to the queue overflow call action in a Lync Server 2010 environment
2861321 "488 Not Acceptable Here" error message when a client accepts or forwards a call in a Lync Server 2010 environment
2861301 A PSTN Call is disconnected in a Lync Server 2010 environment that is integrated with a UCMA 3.0-based application
2861313 Unanswered call is not forwarded to a mobile device in a Lync Server 2010 environment
2861326 Lync Windows Store App doesn't work in a coexistent Lync Server 2010 server and Office Communications Server 2007 R2 Edge server environment
2848882 Update is available for Lync Server 2010 that enables users to execute mobility cmdlets in Lync Server Management Shell
2861320 No missed call notification when a caller hangs up a PSTN call before the call is answered in a Lync Server 2010 environment. (A blessing in disguise if you ask me!)
 CU9 – July 2013
Installation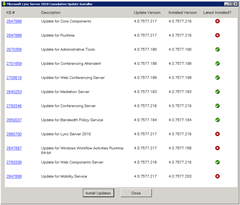 (Click the image for a more legible version)
Thankfully there's no need for a restart after this one, but I always think it's worthwhile to give it a cleansing refresh while you have the opportunity.
And as always, don't forget the database updates!
G.