I encountered a quirky little bug while chasing a Music On Hold (MOH) problem this week.
It seems that in all current flavours of the Office 2016-based client I can lay my hands on (MSI & C2R), activating Mute will suppress the transmission of MOH from the client. This probably isn't going to be something most users will encounter, but will be exacerbated if you're running a util that automatically engages Mute – like removing your wireless headset might do.
Its easily reproducible: with the call on hold, toggling Mute on and off will do the opposite to the music. While you're muted the far end will hear silence & is at risk of hanging up thinking they've been disconnected.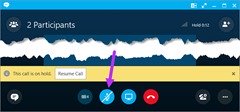 This issue won't however be apparent to external callers if you're using a Sonus SBC and its in-built MOH feature: that continues to play to the PSTN caller regardless.
Affected releases
I've confirmed it occurs on these releases of client:
C2R Version 1708, 8431.2094 (Monthly Channel)
C2R Version 1710, 8713.1000 (Office Insider)
MSI Version 16.0.4549.1000
Revision History
14th October 2017: This is the initial post.
– G.