Following hot on the heels of this week's update to SfBS 2015, we have the equivalent version for 2019.
This is build 7.0.2048.248, and it updated only two components on my Standard Edition Front-End. (The last update was to 7.0.2046.244 released in September).
What's Fixed?
Just the one update:
Kb 4576668 Support push notification for iOS 13 in Skype for Business Server 2019.
What's New?
Nothing noted.
What's Changed?
Nothing noted.
Known Issues
Nothing noted.
Download
Installation
Here's the "before" view of it going on to my Lab's Standard Edition Front-End: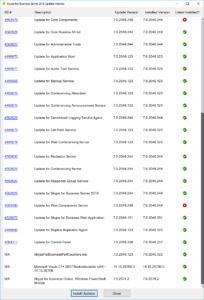 Reboot?
The installer didn't prompt me to reboot, but I always like to give it one for good measure.
Revision History
27th November 2020: This is the initial release.
10th February 2021: Corrected the download links (previously pointing to SfB2015).

– G.