Another one! We seem to be on a three-weekly cycle at the moment! (November's I wrote up here).
This update takes Lync Server 2013 from 5.0.8308.834 to 5.0.8308.857.
What's Fixed?
Of the four MSIs in this update, only ONE has any specific fixes mentioned, with the others containing the usual improvements to the "reliability, stability, and performance" of the product. Here are the fixes we know of:
kb3018165 Agents in a response group cannot receive a call in a Lync Server 2013-based Lync client
kb3018167 External user cannot sign in to a Lync client by using a SIP address of a new domain in a Lync Server 2013 environment
What's New?
What's Changed?
The meeting join experience has changed for users of Chrome: "Google Chrome no longer supports Lync Web App".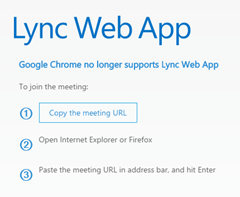 Changes to Chrome broke Outlook Web Access earlier in the year, and now it appears to be Lync's turn – but I suspect this is a pre-emptive strike on behalf of the Lync product team to at least minimise the issue for users.
Updated Dec 18th: The change is referenced in this kb.
Download
Installation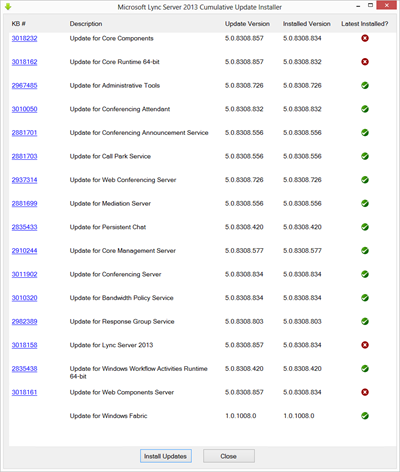 The September update listed as a pre-req that "You must make sure that all instances of the Event Viewer and Performance Monitor windows are closed before you install this cumulative update" so it's best to follow that guidance here – especially if your servers AREN'T presently already at least at 5.0.8308.815. Other than that requirement, the update process remains much the same as usual, although the installation process for the Windows Fabric update (NOT required this time if you're already on 5.0.8308.815 or later, as per my image above) also requires all Lync services are stopped before you run the installer.
If your server is running at version 5.0.8308.291 or later (which I think just about covers everything BUT an unpatched brand new server) you only need to run my steps 1-5 below:
Check you're ready for this: run "Get-CsPoolUpgradeReadinessState"
Stop-CsWindowsService
Get-CsWindowsService – just to make sure
Run the update – it won't want a reboot but it WILL drop your users off!
Update "configured databases", making sure you don't overlook your Persistent Chat, Monitoring and Archiving Databases. NB: Take extra care – and read the kb guidance – if you're Mirroring, or have co-located databases
Update the CMS

(ONLY if it's hosted on a Lync 2013 server & ONLY if you're still on RTM, aka 5.0.8308.0)

Enable the Mobility service (with Enable-CsTopology)
Enable UCWA by running bootstrapper.exe on all Front-End and Director servers
A good test after applying the updates is to run Pat's "Get-CsDatabaseUpdateStatus" script just to make sure you didn't miss anything.
Don't Overlook Exchange!
There's an update to the UCMA Runtime in this bundle, so if your Exchange 2013 server has the UM role installed is integrated with Lync it'll want an update too! (If in doubt, just run the installer – it will tell you if UCMA is installed and needs the update. You can then back out and schedule it at a suitable time).

Revision History
Updated 16Dec: Added "What's Changed" and the Chrome image.
5th Jan 2015: Removed some ambiguous wording in "Don't Overlook Exchange!".
– G.