It's been a big year of content for Skype for Business Cumulative Updates, and CU4 doesn't let us down.
This update takes the server from 6.0.9319.259 to 6.0.9319.272 & updates 8 components on my Front-End.
What's Fixed?
What's New?
"This update enables Location-Based Routing to support the Skype for Business mobile clients."
"This cumulative update contains the following improvements:
Returns different exceptions back, depending on the cmdlet version that runs the Move-CsUser cmdlet.

The Move-CsUser cmdlet can automatically redirect a call to a correct forest without errors."
A new Commandlet has also snuck in:
Get-CsPlatformServiceSettings
New-CsPlatformServiceSettings
Remove-CsPlatformServiceSettings
Set-CsPlatformServiceSettings
Here's what that looks like:
PS C:\Users\Greig> Get-CsPlatformServiceSettings
Identity                   : Global
EnableDelegateManagement   : False
EnablePushNotifications    : True
UseLegacyPushNotifications : True
EnableE911                 : True
PS C:\Users\Greig>
(As at Nov 17th it doesn't appear to have made it to TechNet yet).
Download
Installation
Here's the "before" view of it going on to my customer's Enterprise Edition Front-End:
A Bug?
One of my Lab Standard Editions started logging a lot of event 32270's from the time the update was installed. They were appearing between 5 & 30 minutes apart:
The delay between a publication and its notifications has reached the specified ERROR threshold.
Measured Publication/notifications delay is 41144496 milliseconds. The error threshold is set to 30000 milliseconds.
Cause: A burst of publications or an overloaded front-end is the likely cause of this alert.
Resolution:
Consider using manual override in order to change settings of the notification Queue worker.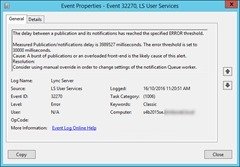 A Microsoft contact suggested this was probably caused by my admittedly under-resourced FE, and it went away after a reboot.
Another bug?
A recent customer deployment started logging PDP (Call Admission Control) errors every 5 minutes from the moment CU4 went on. Read about it here.

Revision History
17th November : This is the initial release.
14th December: Added "Another Bug?".