Our December 2017 update – the first in 7 months – leaps the server from 6.0.9319.281 to 6.0.9319.510. It updates 7 components on my Standard Edition Front-End.
What's Fixed?
This update enables Location-Based Routing to support the Skype for Business mobile clients. It also fixes the following issues:
What's New?
We have a pre-req!
"To apply this update, you must have Microsoft .NET Framework 4.5.2 (Offline Installer or Web Installer) installed."
Some new commandlets have snuck in as well:
Get-CsAdditionalInternalDomain
New-CsAdditionalInternalDomain
Remove-CsAdditionalInternalDomain
– and no, in case you think I've missed it, there's no "set-"
It doesn't appear to have made its way into the online documentation or offline help yet, so for the time being it might have to remain a mystery…
Download
Installation
Here's the "before" view of it going on to my Lab's Standard Edition Front-End: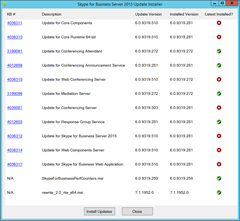 Reboot?
The installer didn't prompt me to reboot, but I always like to give it one for good measure!
Revision History
14th December 2017: This is the initial release.
– G.