This May 2017 update takes the server from 6.0.9319.277 to 6.0.9319.281 & updates 8 components on my Standard Edition Front-End.
What's Fixed?
What's New?
Some new commandlets have snuck in:
Get-CsHybridApplicationEndpoint
New-CsHybridApplicationEndpoint
Remove-CsHybridApplicationEndpoint
Set-CsHybridApplicationEndpoint
These would seem to be tied in with the new bot framework, but info on them is a little scarce at the moment…
You will find the new Meeting Join Launcher attributes appear in your WebServiceConfiguration:
PS C:\Users\greig> Get-CsWebServiceConfiguration | fl MeetingUxUseCdn,MeetingUxEnableTelemetry,JoinLauncherCdnTimeout

MeetingUxUseCdn          : False
MeetingUxEnableTelemetry : False
JoinLauncherCdnTimeout   : 00:00:06

(If the above command doesn't give results as shown, close and re-launch your PowerShell session. If that still doesn't give you any output, it's reboot time!)
With the default values shown above, if someone tries to join a Skype meeting you're hosting and they don't have the SfB client installed, your server will push to them the client-side browser plugin version tied to your server's installed CU. If you now enable "MeetingUxUseCdn", your server will send them the link to source the browser plugin from Microsoft's CDN, with the intent of making the end-user experience that little bit more robust and consistent across SfB implementations, regardless of the CU installed on-site. (This is already the default user-experience on the O365/SfBO platform).
Randy, Martin & Tom (and probably others) have all covered this in a lot of detail, so I won't re-hash their posts.
Server 2016 Support Pulled is here!
The much-anticipated CU5 kb announcing support for SfB on Windows Server 2016 has been pulled – it's 404ing now. On this page Thomas Binder reports it was "published prematurely", so we'll have to wait a little longer before installing on-prem SfB on a Server 2016 machine.
It's back! Thomas documents it here.
Download
Installation
Here's the "before" view of it going on to my Lab's Standard Edition Front-End: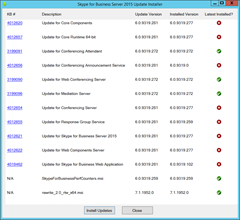 Reboot?
The installer didn't prompt me to reboot, but Randy Chapman has blogged an issue he encountered after not rebooting – so I suggest you give it one for good measure!
Revision History
3rd June 2017: This is the initial release.
20th August 2017: Updated the Server 2016 support section.
– G.