Curiously designated as an April update on the "Updates for Lync Server 2013" webpage, we now have a late-May 2016 update for the Lync 2013 server. This takes the five components that were patched last month to a "release 2.0" (or later) refresh and bumps them up from 5.0.8308.949 to 5.0.8308.956.
What's Fixed?
There appears to be nothing fixed in this re-release. The posted "fixed in this release" details are unchanged from the April update.
What's New?
Nothing apparent just yet.
Download
Installation
Here's the 'before" view of it going on to my Standard Edition Front-End: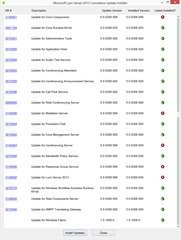 If you're not reading the fine-print in How to apply this update you might miss this additional installation step:
"To make the [new SLA] cmdlets available over Windows PowerShell Remote Management, run the Update-CsAdminRole command one time from a Lync Server Management Shell".
Reboot?
Yes, the process prompts you to reboot at its completion.

Revision History
22nd May: This is the initial release.
– G.