This month's security update touches just about everything in my world it seems. Here are the relevant links for Lync Server 2013:
MS15-104: Description of the security update for Microsoft Lync Server 2013: September 8, 2015
This security update resolves vulnerabilities in Microsoft Lync Server. The most severe of these vulnerabilities could allow elevation of privilege if a user clicks a specially crafted URL. An attacker would have to convince users to click a link in an instant messenger or email message that directs them to an affected website by way of a specially crafted URL. To learn more about the vulnerability, see Microsoft Security Bulletin MS15-104.
This update takes the server from 5.0.8308.920 to 5.0.8308.927 – although there are only two components affected.
What's Fixed?
Nothing apparent just yet.
What's New?
Nothing apparent just yet.
Download
Installation
Here's the "before" view of it going on to my Standard Edition Front-End: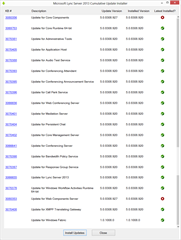 Revision History
14th September : This is the initial release.
– G.