This is SO simple, but *so* well received. Click the photo for a high-res, drool-worthy closeup.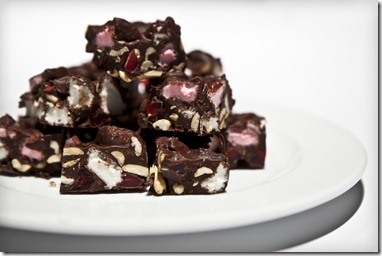 Ingredients:
80 g butter
250 g Pascall's marshmallows, halved (reserve a couple for the chef)
100 g Big Sister glacé cherries, halved
165 g unsalted peanuts
10 Allen's snakes (just the red ones), chopped into 5mm pieces
50 g M&Ms (optional)
Don't skimp and buy the cheap & nasty brands, as the compromise will be evident in the finished product.
Method:
Line an 8" (20cm) or 9" (23cm) square tin with aluminium foil
Chop the chocolate into small pieces. (Skip this step if you're using buttons)
Melt the butter and chocolate together in a large bowl. The microwave is OK, but be gentle, with no more than 20 second bursts of very low power. Stir well before repeating, as chocolate melts from the inside and is easy to burn if you overdo it
Add remaining ingredients to the chocolate and mix well, then pour into tin
Refrigerate until set, then turn out and cut into 1″ or larger squares. Store in the fridge in Summer
Enjoy
Photo: A Bailey & Rocky co-production. Shot on a Canon 5D, 65mm lens, f/3.5 @ 1/20s.
– G.