An April update to the Lync 2013 server has landed, taking the server from 5.0.8308.945 to 5.0.8308.949. Five components are patched, however as at this date (April 16th) the Kb article – or at least the version dished by Microsoft's CDN to me in Sydney – hasn't been updated with the content, and one of the Kb articles referenced in the installer (Kb3140584) is giving "This page does not exist".
What's Fixed?
This cumulative update fixes the following issues:
What's New?
"For additional guidance about planning and deploying Shared Line Appearance in your environment, see the following TechNet articles:"
Download
Installation
Here's the 'before" view of it going on to my Standard Edition Front-End: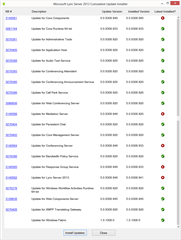 If you're not reading the fine-print in How to apply this update you might miss this additional installation step:
"To make the [new SLA] cmdlets available over Windows PowerShell Remote Management, run the Update-CsAdminRole command one time from a Lync Server Management Shell".
Reboot?
Yes, the process prompts you to reboot at its completion.

Revision History
16th April: This is the initial release.
22nd May: Added SLA to "what's new?" & the "Update-CsAdminRole" installation step

– G.