This update for SfBS 2019 is build 7.0.2046.396, up from last December's 7.0.2046.385. It updated three components on my Standard Edition Front-End.
What's Fixed?
Nothing! OK, that's not quite true.
The kb article hasn't been updated or the update propagated to my local CDN at the time of writing, so at this stage I'm flying blind.
I'll re-check later and edit this post to add any info that arrives.
What's New?
Nothing noted. No cmdlets have been added to the SfB module in this update.
What's Changed?
Nothing noted.

Download
Installation
Here's the "before" view of it going on to my Lab's Standard Edition Front-End: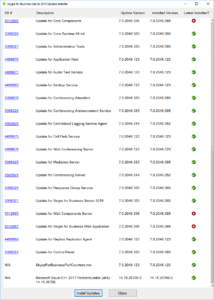 Reboot?
The installer didn't prompt me to reboot, but I always like to give it one for good measure.
Revision History
13th April 2022: This is the initial release.
– G.