Here's one I stumbled across by chance – a March 2012 update to the Lync server. I'm calling it CU5.5, although I've not seen anything to suggest it's been formally bestowed with that title. (Could it be CU6 running early??)
It updates several components on the Server (including Mobility) to 4.0.7577.197, and comes with its own LyncServerUpdateInstaller.Exe, so it's certainly a more significant update than just a couple of random hotfixes.
There is also a companion update to the PC Client.
Here's the "before" photo from my SE FE (click to enlarge):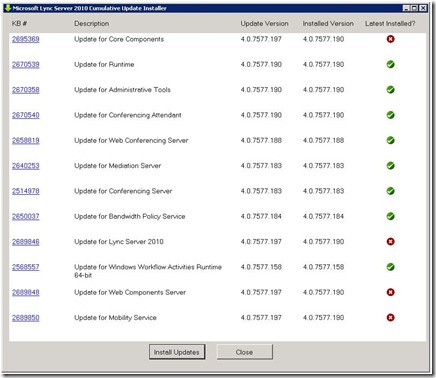 The Installed Version peaks at 4.0.7577.190 (aka CU5), and this updates the applicable components to 4.0.7577.197.
Don't forget the other servers though: the update is also relevant to the Edge and Monitoring server – and given that it's core, any *other* server roles you may have laying around.
Gateway pre-requisites?
NET has advised that the UX needs to be running 2.1v147 or above, and the VX needs to be at least 4.7.5v67 or 68.
Audiocodes details TBA.
Do We Update the Database or Not?
I lost a certain amount of trust in the accuracy of the KB article when I reached the bit that said "Note The updates will be available on Microsoft Update in late August, 2011." Save-As anyone?
So I figured I'd run the same database updater from before, which for my SE FE was
Install-CsDatabase –Update –LocalDatabases
I trawled the output and the only item that gave me confidence it'd done anything was where it said "(Minor upgrade of database only.)" – but if course if there's no update, it's not going to say that is it? So I ran it again to see! And it said the same. I repeated this test on my EE FE with the same result, so I'm confident that this update either makes no change to the database, or the installer's not clever enough to tell you if it has! If in doubt: give it a whirl. The various commands for the database are in my CU5 post from last month.
– G.