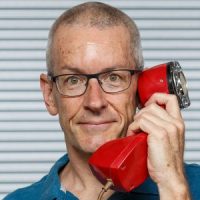 OK, I've decided that my brain's too soft to remember all of the funky and techy snippets I encounter in my travels, and my previous method of storing these tips is so embarrassing that I'm not going to tell you what it is. Was.
And so, a blog is born. It started as on-line storage place for tips, tricks & gotchas I've encountered, and seems to have become a place others find of use as well.
My heritage is telephony: I've spent my entire working life involved in business communications. I left school straight into an apprenticeship with (then) Telecom Australia and I chose "PABX Maintenance" as my specialisation at the end of my first year of training.
The Nortel "SL-1" PABX family became my bread-and-butter for almost two decades, and it was Nortel's "Innovative Communications Alliance" with Microsoft that introduced me to "UC" and presented me an obvious career move when the good ship Nortel sank in 2008/2009. (You can read some more of my reminiscing in From Telecom Apprentice to Lync MVP in 30 Short Years).
I am currently employed by a leading Microsoft partner in its Sydney (Australia) office, however the opinions, tips, recipes and other content on this site are not necessarily the opinion of, or endorsed by my employer. All recipes are low-fat (promise!) and do not use genetically modified ingredients.
Enjoy.
– Greig.