My Topology here in the Lab started with a Standard Edition FE, and I later added an EE. Accordingly, the XDS is on the SE FE, which would be considered 'unconventional' in the outside world, and certainly highly undesirable if you're aiming for high availability.
CU4 went on to the SE without any problems, but when I got to the EE server the Database Update failed with following error:

"A network-related or instance-specific error occurred while establishing a connection to SQL Server. The server was not found or was not accessible. Verify that the instance name is correct and that SQL Server is configured to allow remote connections. (provider: SQL Network Interfaces, error: 26 – Error Locating Server/Instance Specified)"

Turned out that the SQL Server Browser Service was stopped on the SE. Starting that was all I needed to do to get the EE update to take.
There were also a stack of instances of Event 2032, LS Master Replicator Agent Service logged in the SE FE – presumably one for each time I'd tried the DB update:
"Failed to register with back-end database. Microsoft Lync Server 2010, Master Replicator Agent will continuously attempt to reconnect to the back-end. While this condition persists, no replication will be done"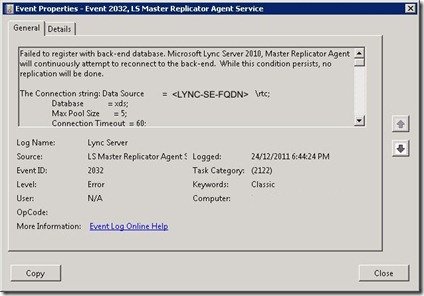 – G.