We have a November update to the Lync client. Read all about KB2899507 here.
This update takes the Lync 2013 Client to 15.0.4667.1000/1001.
What's Fixed?
What's New?
Nothing that I can see.
Known Issues
Screen-readers appear to be an ongoing problem – unchanged from the known issues list of previous updates:
2898357 Screen readers cannot read aloud keystrokes during a Lync 2013 application or desktop sharing session in Windows
2932389 Persistent Chat file transfer fails between an external user and an internal user in Lync 2013
Pre-Requisites
One of these has also been updated since the last update:
As with the October update, IDCRL is no longer listed as a pre-req. I've left it here scratched out just for the time being…
Download
The Install Process
I've converted to using Tom's great "install-hotfixes" PowerShell module to install my updates these days. Here's the output. Note that I've dropped ALL of the pre-req's in the one folder (including the old ones I already believe I have installed) and am letting them fight it out: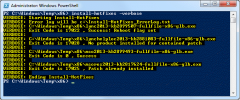 Reboot?
Alas, yes – although the KB says no. The MSO update set the reboot flag apparently. (Click the image for a more legible view).
Before & After
Here's a before and after comparison of an x86 client on a Windows 7 machine.
| | |
| --- | --- |
| Before | After |
| Lync 15.0.4659.1001 MSO 15.0.4659.1001 | Lync 15.0.4667.1000 MSO 15.0.4667.1001 |
| | |
– G.