After now several false starts, we have a re-re-release of the September Lync 2013 Client update.
This is the update that introduced speck-checking to Lync IMs, reinstated the old "chasing its tail" circular OCS presence icon in the tray, and – my favourite – "paste special".
In its current incarnation it's designated 15.0.4535.1510 with a release date of October 8th – although the two download links used for this post only resulted in ".1507" as at this writing (10th Oct).
Known Issues
2883716 Presence status isn't updated based on Exchange calendar in Lync 2013
Assume that you install the September 2013 update package for Microsoft Lync 2013 that is mentioned in update 2825630. In this situation, your calendar information and OOF information aren't synchronized between Microsoft Exchange and Lync 2013. For example, when a meeting is scheduled in your Outlook calendar, the following issues may occur:
If the meeting cannot be joined by using Lync 2010 or Lync 2013, your presence status isn't updated in Lync 2013 when the meeting starts.

If the meeting is a Lync 2010 or Lync 2013 meeting, your presence status isn't updated in Lync 2013 until you join the meeting manually.
I've not seen it documented anywhere, but it appears that this flawed update (and its predecessor) has also broken the option to have call forwarding settings apply "during work hours", as set in Outlook: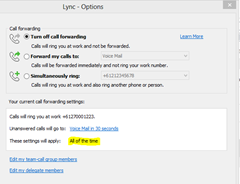 (The text highlighted in yellow is normally a link!)
Download
It uses the same download links as before:
No Reboot?
My very hasty and unscientific testing would so far suggest if you have the client running when you launch the update you'll be required to reboot. If you kill the client first you're spared the reboot.
Before & After
Full
| | |
| --- | --- |
| Before | After |
| Lync 15.0.4535.1002 MSO 15.0.4517.1504 | Lync 15.0.4535.1507 MSO 15.0.4517.1504 |
| | |