OK, so that's not entirely the truth – but the great Scott Hanselman says you need to have a catchy title to get 'em in.
*IF* however, you implement M:N Routing in Lync 2013 and change the trunk name so that it's no longer the same as the gateway's FQDN, you'll no longer be able to call a Cs-AnalogDevice that uses that PSTN/trunk gateway: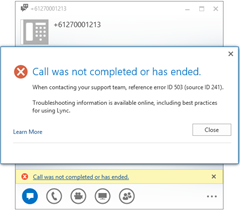 "Call was not completed or has ended. When contacting your support team, reference error ID 503 (source ID 241)."

Snooper reports it thus:
"SIP/2.0 503 Service Unavailable". "Analog device configured on an unknown gateway"
This will Work:

The trunk name = the FQDN of the Gateway.
This will break it 100% every time:

PSS is working on the case. They've been able to dupe it, so we're just in the queue for a fix. Stay tuned.
Credit where it's due – my colleage Dan nailed this one. I'm just the messenger. Thanks Dan!