This update – our first for the year – takes the server from 6.0.9319.102 to 6.0.9319.235. Is this officially CU2? Let's go with it and see what happens. (Update: Yes, it is "CU2").
What's Fixed?
What's New?
Download
Installation
Here's the "before" view of it going on to my Standard Edition Front-End: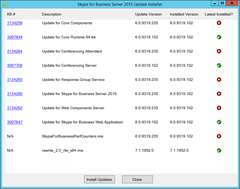 A Reboot?
Unlike CU1 this update doesn't automatically reboot the server when it completes.
Revision History
20th March : This is the initial release.
– G.