With the dust still settling from last week's Ignite we can get back to our usual routine, and what better way to do this than with CU4(?) for SfBS 2019.
Our last update was July's security update to 7.0.2046.236, and this new release (7.0.2046.244) updated nine components on my Standard Edition Front-End.
What's Fixed?
What's New?
No cmdlets have been added to the SfB module in this update.
What's Changed?
Nothing noted.
Known Issues
Nothing noted.
Download
Installation
Here's the "before" view of it going on to my Lab's Standard Edition Front-End: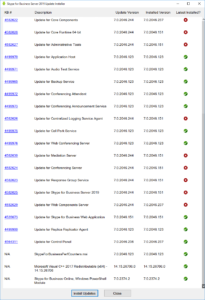 Reboot?
The installer didn't prompt me to reboot, but I always like to give it one for good measure.
Revision History
29th September 2020: This is the initial release.
– G.