I presented a Teams Deep-Dive session at Microsoft's office in Canberra this week.
At the end there were a few links I wanted to share with the participants, and a few homework questions I wanted to research and respond to. A blog post seemed the obvious way to provide them with that info.
The below will be of greatest relevance to the attendees, but even if you weren't there I think you'll find some bits of interest.
Connectivity.office.com
Whilst the day was focussed on the application layer, I shared with the attendees the link to the relatively new "connectivity.office.com" webpage, and explained how a poorly-performing transport layer will undermine all your best efforts.
This page will report back to you where your traffic leaves your network and hits the internet, and then where it reaches Microsoft's front door.
I showed the real-world capture from my Melbourne customer, whose Office 365 traffic travels across the internet from Australia to Singapore, before hopping back to Microsoft there:
The fix for this was simple, and the cause is Google: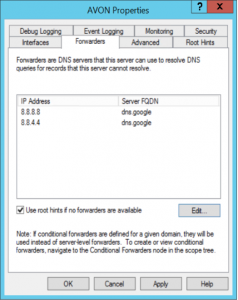 If you have 8.8.8.8 and/or 8.8.4.4 as your public DNS forwarder, it breaks Microsoft's Geo-DNS and you don't get the best/optimised ingress location – and hence Singapore in this case.
If you have either like in my example here, please change them to be your ISP's/carrier's local DNS, and the routing of your Office 365 traffic will become more accurate.
Improved File Tab Experience
This was a popular question. Here are two grabs from the Roadmap site confirming the sought-after functionality is on the way: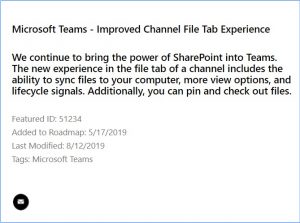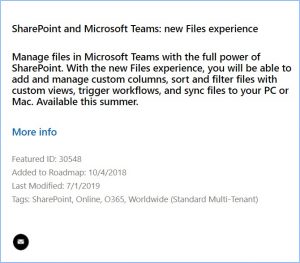 Here's the search link that revealed them, and credit to SharePoint MVP @RobertCrane for the tip.
Backup and restore for Teams Configuration
Whilst it doesn't do all my questioner asked, Lee Ford's MS Teams Configuration Backup Script is a very handy way to extract all your Microsoft Teams config – and for bonus points you can compare extracts to see what's been changed.
Lee has a LOT of blog posts and utils around Graph and Flow. Do spend some time browsing his blog.
What's new and what's coming
There are several resources that help you keep across what's new and what's coming:
User voice
Check out all the suggested new features and functions, and please vote, comment, and contribute:
https://microsoftteams.uservoice.com/.
Office 365 Roadmap
If it's on the way, it's on the Roadmap:
Office 365 Roadmap – filtered by Microsoft Teams.
Luca's "Skype for Business and Teams features comparison table"
https://lucavitali.wordpress.com/2017/10/01/sfb-teams-features-comparison-table/.
IM Security Warning
Is there a way to add an IM security warning to the start of a 1:1 chat in Microsoft Teams? (i.e. like the Set-CsClientPolicy -IMWarning" in SfBS").
Researching.
Start a whiteboard with a 'template' image?
If you're regularly needing to mark-up a standard image in a meeting or conversation, it would be great to be able to pre-load a template image. Examples would be a brain or a skeleton in a medical application, or a map in lots of education or geographical scenarios.
I suspect this is coming in the new Whiteboard, currently in preview and hopefully in GA before the end of the year.
There's a little more info in "Use Whiteboard in Microsoft Teams". Also, refer to the "How do I add pictures" topics on this page.
We're in Islands Mode. Who's using which client?
If you've commenced the migration journey, you might want to pull some stats to report on the user adoption.
The Microsoft Teams Admin Centre has the Teams component of that covered. Browse to Analytics & reports / Usage reports. The "Teams user activity report" shows you who's used Teams, and from here you can generate a report covering the last 7 or 28 days, and export it to csv.
Microsoft Graph
Graph is an incredibly powerful resource, but can come across as intimidating to the uninitiated.
Power Apps
Mario Tevanian presented the final session on Power Apps, and showed a demo site to request and approve the creation of new Teams.
Lee Ford has his own take on that here.
PowerApps and Microsoft Flow: Learning Resources is full of useful info.
If you're wanting to get started in Flow, check out the "Flow In a Day" download on the page above.
ANZ Microsoft-related User Groups
Check out the master list of Aussie and New Zealand user groups. Many of these publish their Meetups' slide decks to their members, so you don't need to attend to benefit:
aka.ms/anzusergroups

– G.