Our March 2018 update nudges the server up from 6.0.9319.510 to 6.0.9319.516 and updates 7 components on my Standard Edition Front-End. It doesn't seem to be officially called CU7, but so far Martin and I are going with that. I'll update the post if I'm advised to the contrary. CU6 HF2 it is, thanks Tim!
What's Fixed?
According to the kb, "This update enables Location-Based Routing to support the Skype for Business mobile clients", but the last one said that too.
It also fixes the following issues:
What's New?
We have a pre-req! (OK, to be true this one was introduced with CU6 in December, but I thought I'd mention it here again in case you skipped that one).
"To apply this update, you must have Microsoft .NET Framework 4.5.2 (Offline Installer or Web Installer) installed."
Download
Installation
Here's the "before" view of it going on to my Lab's Standard Edition Front-End: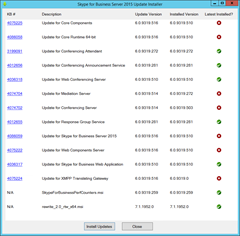 A Bug?
This popped at the end of the installation: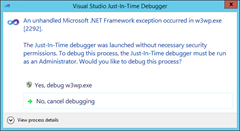 An unhandled Microsoft .NET Framework exception occurred in w3wp.exe [2292].
This prompted me to install it on 2 more SE FE's, an Edge and my Applications server, but the error failed to recur. Was that a fluke, or perhaps just something triggered by my woefully underpowered FE? I guess time will tell. Please add comments if you encounter this, and I'll update the post if I see it in the real world.
Reboot?
The installer didn't prompt me to reboot, but I always like to give it one for good measure!
Revision History
25th March 2018: This is the initial release.
– G.