The latest client update is out: the July 14, 2015, update for Lync 2013 (Skype for Business) (KB3054946).
This one takes the Office 2013-based Lync/SfB client from 15.0.4727.1001 to 15.0.4737.1001.
What's Fixed
What's New / Changed
The presence indications of a signed-in user with OOF active change with this update. (Thanks Jeff Schertz for highlighting that).
Known Issues
Pre-Req's
A few people have found their recent updates haven't delivered as expected. Don't forget *all* of the pre-req's. The Office 2013 SP1 requirement still applies if you're using Office 2010. (Lync 2013 in all of its flavours – e.g. Lync Basic – is still a component of Office 2013).
Update

Download

Current Version

Released

Office 2013 SP1 (KB2817430)

(NOTE 1 BELOW)

1.0
18 February 2014
Update for Office 2013 (KB3054853)

(NOTE 2 BELOW)

1.0
9 June 2015
LyncHelpLoc (kb2889853)
1.0
13 April 2015
Microsoft Office 2013 Language Pack Service Pack 1 (KB2817427)
1.0
13 February 2014
NOTE1: "Before you install this update, you must install Microsoft Office 2013 Service Pack 1 (KB2817430)".
NOTE2: "You do not have to apply update KB3054853 if you applied the April 14, 2015, update (KB2889923) or the May 12, 2015, security update (KB3039779) for Lync 2013 (Skype for Business)".
Download
This is the client fix itself:
Installation
As always, Tom's great Hotfix installer does the work here. I threw several pre-req's in a folder (even though I'm already patched as per NOTE2) largely to see what would happen. As per NOTE1 though, you "must" have Office 2013 SP1 installed before you start.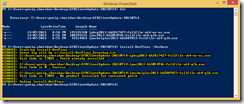 The mandatory pre-req LyncHelpLoc is still reporting "no product installed", and I've had several colleagues report they've *never* seen it install. If you've had it install and can shed some light on the variation, please share that with us in the comments, and if you can think of why…
Reboot
I have all the pre-req's already installed, so a reboot was not required. The further behind your current client version is, the greater the likelihood you'll need to reboot.
Before / After
I started this post on the home PC and finished several hundred kilometers and 4 hours later on the corporate laptop. That is by way of explaining why astute readers might notice the tiniest differences between the "before" and "after" shots.
| | |
| --- | --- |
| Before | After |
| SfB 15.0.4727.1001 MSO 15.0.4727.1001 | SfB 15.0.4737.1000 MSO 15.0.4737.1001 |
| | |
| | |
Revision History
19th July 2015: This is the initial (incomplete) post
19th July 2015: Additional content. Hello from Canberra!
– G.