Buried in amongst the excitement of yesterday's arrival of the Skype for Business Server 2015 ISO on MSDN and the swarm currently descending upon Chicago is quite a worthy update to Lync Server 2013. This one takes Lync Server 2013 from 5.0.8308.871 (or 5.0.8308.872 depending upon where you look) to 5.0.8308.887.
What's Fixed?
What's New?
Nothing apparent just yet.
Is this a pre-req for Skype for Business 2015 server?
Strictly, no, but in reality it's looking more like a YES. If you're planning on performing an in-place upgrade of your Lync 2013 server to Skype for Business the published minimum is 5.0.8308.738, which was the August 2014 update. I think this is overridden by one of the fixes above (kb3062801) that addresses a known issue with conferencing data loss when migrating users to a Skype for Business pool. So by my reading that makes this KB a pre-req!
Download
Installation
My lab Front-End here's not the most blessed with resources, and it took just on 6 minutes to install. The end of the process prompted for a reboot. Here's the 'before" view: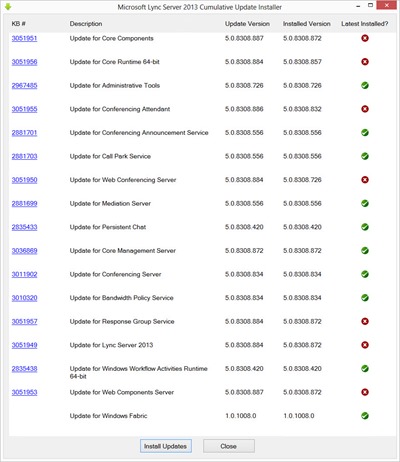 The September update last year listed as a pre-req that "You must make sure that all instances of the Event Viewer and Performance Monitor windows are closed before you install this cumulative update" so it's best to follow that guidance here – especially if your servers AREN'T presently already at least at 5.0.8308.815.
Other than that requirement, the update process remains much the same as usual, although the installation process for the Windows Fabric update (NOT required this time if you're already on 5.0.8308.815 or later, as per my image above) also requires all Lync services are stopped before you run the installer. If your server is running at version 5.0.8308.291 or later (which I think just about covers everything BUT an unpatched brand new server) you only need to run my steps 1-5 below:
Check you're ready for this: run "Get-CsPoolUpgradeReadinessState"
Stop-CsWindowsService
Get-CsWindowsService – just to make sure
Run the update
Update "configured databases", making sure you don't overlook your Persistent Chat, Monitoring and Archiving Databases. NB: Take extra care – and read the kb guidance – if you're Mirroring, or have co-located databases
Update the CMS

(ONLY if it's hosted on a Lync 2013 server & ONLY if you're still on RTM, aka 5.0.8308.0)

Enable the Mobility service (with Enable-CsTopology)
Enable UCWA by running bootstrapper.exe on all Front-End and Director servers
A good test after applying the updates is to run Pat's "Get-CsDatabaseUpdateStatus" script just to make sure you didn't miss anything.
Don't Overlook Exchange
There's an update to the UCMA Runtime in this bundle, so if your Exchange 2013 server has the UM role installed it'll want an update too! (If in doubt, just run the installer – it will tell you if UCMA is installed and needs the update. You can then back out and schedule it at a suitable time).

Revision History
3rd May: Updated "is this a pre-req" to say 'not officially, but yeah'.
– G.