There's only a little one here to kick the new month off, and it looks like we have Apple and iOS 9 to thank for it.
This update takes the server from 6.0.9319.72 to 6.0.9319.88, with two components affected.
What's Fixed?
kb3097592: You can't join a meeting from outside Lync 2013 for iPhone or Lync 2013 for iPad on iOS 9.
[The iOS client won't be updated and renamed until next week, hence what seems to be cross-version confusion here].
What's New?
Nothing apparent just yet.
Download
Installation
Here's the "before" view of it going on to my Standard Edition Front-End: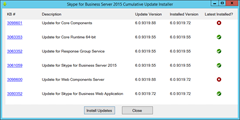 Revision History
2nd October: This is the initial release.
– G.