It's here! There's a CU1 for Lync 2013 already!!
Released separately, the client updates (two of them) were released on Feb 11th, with the server side arriving on the 26th.
Client Updates
The client updates are detailed here, and this package includes a handful of feature enhancements, as well as the expected bugfixes. One such enhancement – "Enables users to receive buddy invites from untrusted networks" – makes a lot more sense after the Lync Conference and the Skype integration session. Aha. It's so a user can protect themselves from the SPIM that arrives via unwanted invites. This screen-grab is from the "Alerts" tab, showing the new group and the defaults:

There are two different update packages and the article linked above says "make sure that both the LyncLoc package and the Msores package are installed". I thought this was a bit puzzling, so I had a bit of a play, and my experience so far suggests that the "Msores" version is only applicable to the full Office install. If you're running Lync Basic, you can probably just get away with the LyncLoc version. (I haven't been able to snaffle the free-standing full Lync client yet).
These images are captured from a test scenario using the x86 Lync 2013 Basic Client on x86 Windows 8.
Before:
With LyncLoc
With Msores
With both:
Microsoft Lync 2013 (15.0.4420.1017) MSO (15.0.4420.1017)
Microsoft Lync 2013 (15.0.4454.1506) MSO (15.0.4420.1017)
Microsoft Lync 2013 (15.0.4420.1017) MSO (15.0.4420.1017)
(no change from "Before")
Microsoft Lync 2013 (15.0.4454.1506) MSO (15.0.4420.1017)
(no change from "With LyncLoc" alone)
Yes, the same KB is there twice. Reproducible. Weird.
If/as this situation becomes clear, I'll add more to this (or subsequent) posts.
Download
Server Updates
The server update was pre-announced at the Lync Conference, with much excitement around its imminent arrival. It takes the server to 5.0.8308.291.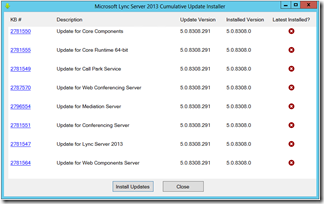 What's new?
It delivers a great collection of new functionality, including:
Mobility. You will need CU1 on the Front-End server to support the new mobile client
Location-based PSTN call routing. This uses your CAC network config to potentially bypass your existing Least Cost Routing. When a user travels to a new site, their calls to the PSTN may be permitted to route out the local gateway, rather than follow their existing voice policy and route via home. Likewise in reverse, if someone places a PSTN call to a user who's at another site, this feature lets you decide if you want to permit the call to reach them, or instead go to voicemail. This feature addresses some regulatory issues in countries that restrict the carriage of overseas voice calls over a customer's network (instead of the usually government-owned PSTN), but I can also see some appeal to customers with constrained WAN links
Call pickup. If you hear a colleague's phone ringing, you can now pickup their call by dialling a code. This has been implemented as a variation on Call Park, and uses SEFAUtil for its admin. I've been sweating on this for a while, so I'll document it in a separate post soon.
What's fixed?
Here are a few that jumped out at me. You can read about the lot in the link below.
2798145 Changes are not updated in the ABS databases for a user whose distinguished name is changed in AD DS in a Lync Server 2013 environment
2794261 You cannot sign in to a client for Lync Server 2013 after a connection issue occurs between the primary Front End server and other servers in a Lync Server 2013 environment
2794262 You cannot join a meeting that was created in a Lync Server 2013 environment by using Internet Explorer on a Windows Phone 8 device
2794263 "Cannot join the meeting due to user permissions" error message when a user tries to join a meeting in Outlook 2013 in a Lync Server 2013 environment
2785194 Address Book Web Query service fails when you set the "UseNormalizationRules" parameter to "False" in Lync Server 2013
Download
Read more about it here, and download the installer from here. And don't forget the database updates, which become more complex with SQL mirroring!!