This security update for SfBS 2015 is build 6.0.9319.634, up from April's 6.0.9319.628. It updated four components on my Standard Edition Front-End.
What's Fixed?
This security update resolves a remote code execution vulnerability in Microsoft Skype for Business Server and Microsoft Lync Server. To learn more about these vulnerabilities, see Microsoft Common Vulnerabilities and Exposures CVE-2022-33633.
What's New?
Nothing noted. No cmdlets have been added to the SfB module in this update.
What's Changed?
Nothing noted.
Download
Installation
Here's the "before" view of it going on to my Lab's Standard Edition Front-End: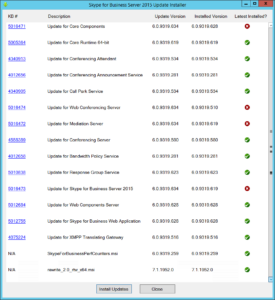 Reboot?
The installer didn't prompt me to reboot, but I always like to give it one for good measure.
Revision History
13th July 2022: This is the initial release.

– G.