In June we saw an update for SfBS 2019 that added the new "Emergency Mitigation Service", and now it's 2015's turn. This is build 6.0.9319.853, up from last December's 6.0.9319.842. As expected, it's only updating two components on my Standard Edition Front-End and delivers only one fix.
What's Fixed?
5030764 Emergency Mitigation Service for Skype for Business Server
What's New?
This article announces the arrival of the Emergency Mitigation Service, with some companion commandlets.
Microsoft takes security very seriously and we continue to work hard to protect your systems and data from cyber threats and to comply with evolving regulations. In line with this, we have introduced the Skype for Business Server Emergency Mitigation Service to help protect your servers from potential threats. This service provides a temporary and interim mitigation until you can install an update that fixes the vulnerability.

The new cmdlets are:
Clear/Get/Repair/Set-CsMitigation
Get/Set-CsMitigationConfiguration
Get/Set-CsMitigationTelemetryConfiguration
Test-CsMitigationServiceConnectivity

What's Changed?
Nothing noted, although if you're NOT already up to current (.842), check out the new pre-req's that it required.
Download
Installation
Here's the "before" view of it going on to my Lab's Standard Edition Front-End: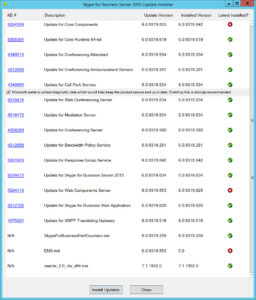 The "Microsoft wants to collect diagnostic data" message stays fixed when you resize the window, which is why the screen-capture looks a little wonky.
Reboot?
The installer didn't prompt me to reboot, but I always like to give it one for good measure.
Revision History
23rd August 2023: This is the initial release.
– G.