This update takes the server from 5.0.8308.933 to 5.0.8308.941, although I'm struggling to see anything that's actually fixed or changed at this stage.
What's Fixed?
Nothing apparently! According to the kb articles, this cumulative update simply resolves issues that have previously been resolved in earlier updates this year!
What's New?
Nothing apparently.
Download
Installation
Here's the "before" view of it going on to my Standard Edition Front-End: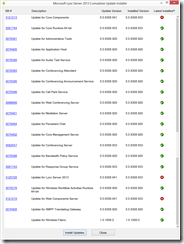 Reboot?
No – but I gave it one anyway.
Revision History
15th December: This is the initial release.
– G.