Here's the Q2 update for Lync Server 2010.
What's Fixed
"This cumulative update improves the reliability, stability, and performance of Lync Server 2010, Core Components".  Oh, and these bits:
2954538 Application and desktop sharing features are missing when Lync Web App runs on Internet Explorer 11 or Firefox
2884800 Can't join a meeting in Lync Web App when the Region and Language format is Turkish in a Lync Server 2010 environment
2954865 Conference Auto Attendant fails when users join PSTN conferences at the same time in Lync Server 2010 or Lync Server 2013
What's New?
Nothing I've managed to unearth, although that's hardly surprising at this stage in the product's life-cycle.
Download
Server
This update takes Lync 2010 Server to 4.0.7577.230.
Installation
DON'T FORGET THE DATABASE UPDATES! The process is documented on the kb page.
Here are the before and after component versions changed in this update: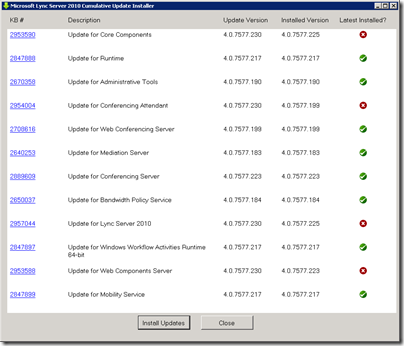 Reboot
Oh, and the installation process requires a reboot.
G.