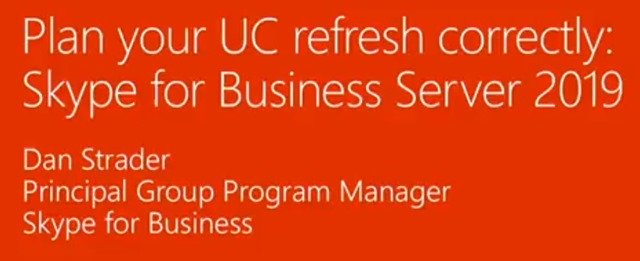 It's been an exciting week for news and announcements out of Ignite, currently underway in Orlando, Florida.
One particular session of note is the revelation of the "vNext" of Skype for Business Server (herein "SfBS").

The presentation runs for around 30 minutes and it's followed by a comprehensive Q&A session. If you don't have the time (or want to quickly skim to assess its worth), here are the notes I took. I've added some of my own thoughts in square brackets:
A full server and client update of Office (e.g. SfB, SharePoint, Exchange) is on the way. This is expected to preview mid-2018 with a formal release late CY2018
The new Office client

will be C2R only – there will be no MSI client
will be back-compat with SfBS 2015
has a minimum client o/s of Windows 10

On the Mac client: "there's more work to do there. We'll finish that story"
SfBS 2019 will be based on the code running SfBO in the Cloud. Lots of the "fit and tuning" fixes will be brought on-prem for the first time in SfBS 2019
Making online cloud services available to on-prem. (e.g. reporting, UM)
Server pre-req's: Minimum Windows 2016 & SQL 2016
Side-by-side migration option only – no in-place upgrade option. [This is probably largely moot given the pre-req for Windows Server 2016]
No Standard Edition server option
Formally [finally!] removing the Director role
The web-based CSCP will no longer use Silverlight
With a Tenant in O365, on-prem users & admins can take advantage of some of the online experiences:

A new hybrid-aware O365 portal
Call analytics & CQD together

On-prem users will be able to have a Cloud-based voicemail box (including Auto-Attendant)
Side-note: the Exchange 2019 Feature Set has not yet been announced. Expect that to happen around Enterprise Connect next March
Hybrid modern authentication
An easier eventual migration path to Teams: you'll be able to migrate directly from on-prem to Teams [when that's right for you]
Register with SkypePreview.com to provide your input to the new feature set between *now* and Christmas & access the earliest preview builds (in CY2018)
Cloud Connector Edition (CCE) will be able to co-exist side-by-side with SfBS 2019
A goal for Teams is to be able to bring a voice trunk (via your SBC) directly to the cloud, without requiring something like CCE
Disabling TLS 1.0 & 1.1 is being worked on for SfBS 2015 & this will definitely be shipped with SfBS 2019. (Thinks it's targeted to CU7 for SfBS 2015)
"Persistent chat is not shipping with Server 2019"
Yes, there will still be a browser plugin requirement for web-based meeting joins (no WebRTC). The problem goes away if you start using Teams for your meetings
SBA co-existence is expected to be supported: "we know we need some sort of co-existence story there". There won't be a 2019 build of SBA
It appears unlikely they'll release the SBA as a cloud-attached survivable branch appliance
"Nothing new" in Response Groups. [The preferred path there is hybrid & the evolving Call Queues functionality in SfBO]
Specifics around licencing won't be announced until much closer to release. You can probably expect to see a tie-in with Microsoft 365 licencing that will include on-prem server option
The question about whether the much-loathed SEFAUtil will be replaced by inbuilt PowerShell cmdlets was skillfully avoided. [Use Landis' "SEFAUtil Server" instead – I installed and reviewed the Beta here]
The latest Windows Fabric in use online is being ported to SfBS 2019, however a 2-server EE pool will remain unsupported
Did I miss anything or get it wrong? Please add any comments below.
Revision History
29th September 2017. This is the initial release.
– G.