This July update takes the server to 5.0.8308.992 from March's 5.0.8308.987. This time 'round 6 components receive an update – and its mysteries have me VERY curious…
What's Fixed?
What's New?
There are a few bits of interest here. Firstly, one new P$ commandlet and the expected verb variations:
Get-CsHybridApplicationEndpoint
New-CsHybridApplicationEndpoint
Remove-CsHybridApplicationEndpoint
Set-CsHybridApplicationEndpoint
(We saw these appear in SfB CU5 back in May so it's no great surprise to see them back-ported to Lync now).
This one particularly took my fancy so I thought I'd experiment some more:
Kb 4023332 Delegate can pick up Peer to Peer call on behalf of delegator now in a Lync server 2013 environment
Unfortunately my tinkering here amounted to nought, so I've polled my MS contacts and MVP peers to see if anyone knows what's going on. Stay tuned…
Download
Installation
Here's the "before" view of it going on to my Standard Edition Front-End: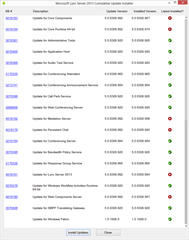 After you've run the installer & updated the databases (if required), don't overlook the final few steps:
Enable-CSTopology – which will fail if you have SfB2015 co-existing, so don't be frightened by the error "Command execution failed: "1" error categories reported in topology document."
Fire off the bootstrapper: %ProgramFiles%\Microsoft Lync Server 2013\Deployment\Bootstrapper.exe
And if you've skipped an update or two, best run Update-CsAdminRole after you're done to make sure the new commandlets added in previous updates are accessible when PS Remoting.
Reboot?
Yes, the installer prompted me to reboot.
Revision History
13th July : This is the initial release.
– G.