Determining the number of SIP channels to licence in your new SBC is often based on an educated guess. Many customers migrating to SIP from ISDN have been historically over-resourced for ISDN channels as their carrier (at least here in Oz) typically forces multiples of 10 channels so as to sell a 2MB PRI ISDN as a 10, 20 or 30 channel service. With luck your carrier can provide traffic figures, or a "busy hour" high water mark to note the highest number you're expected to reach.
Having made that leap of faith you might be a little uneasy when it goes into production, but if you're using a Sonus SBC 1k/2k/SWe you'll be comforted to know it keeps a 25-hour rolling window so you can keep an eye on the call breakdown.
From the Settings tab, navigate to System / Licensing / Current Licenses and click "Historical Usage" in the menu bar at the top: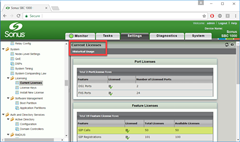 … and up pops an hour-by-hour breakdown of not just the last day's SIP calls, but also SIP registrations and DSP usage as well: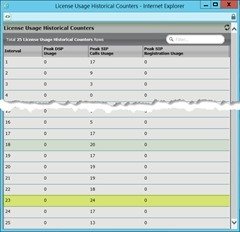 Should you happen to hit the licence limit, the SBC will let you know. It will log a Minor alarm to the Alarm View:
… and of course if you've enabled SNMP Alarm Monitoring, your NMS will receive the notification of it. To help you gauge the severity, it even tells you how many times this has happened, and thus how many calls were rejected.
I'm not sure "Minor" is the right classification for when your SBC is shedding traffic, so you might prefer to ramp that up under SNMP/Alarms / Alarms/Events Config: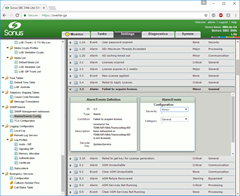 Should you have SERIOUSLY underestimated the volume of traffic – or perhaps a fault elsewhere in your network is resulting in an avalanche of calls that the SBC is now rejecting – get on the blower to your Sonus support provider or sales representative. They may be able to fast-track a time-bombed emergency licence key to tide you over, or of course a new permanent one with the extra channels.
Revision History
22nd March 2017: This is the initial post.
– G.