We have a June update to the new Lync/SfB client. This update takes the client from 15.0.4719.1000 to 15.0.4727.1001.
Kb3054791 June 9, 2015, update for Lync 2013 (Skype for Business) (KB3054791).
What's Fixed?
This update resolves the following issues:
Whilst not directly identified, this update also appears to stop the unexpected 'ding' when you type ']' into an IM.

What's New?
No new functionality appears to have been added since the recent Security update.
BTW, just in case you've been hiding under a rock of late, know that this update and its pre-req's ALSO includes the Skype for Business client interface. Released last month this makes a range of changes including new sounds and program naming, as well as the optional Skype UI. All future updates to the Lync 2013 client are going to incorporate this functionality, just as each update includes all previously released fixes. I've covered it here.
Known Issues
After you install this update, you may experience the issues that are described in the following Microsoft Knowledge Base articles:
Pre-Req's
A few people have found their recent updates haven't delivered as expected. Don't forget *all* of the pre-req's. The Office 2013 SP1 requirement still applies if you're using Office 2010. (Lync 2013 in all of its flavours – e.g. Lync Basic – is still a component of Office 2013).
Update

Download

Current Version

Released

Office 2013 SP1
(KB2817430)
(NOTE 1 BELOW)
1.0
18 February 2014
Update for Office 2013 (KB3054853)
(NOTE 2 BELOW)
1.0

9 June 2015

LyncHelpLoc
(kb2889853)
1.0
13 April 2015
Microsoft Office 2013 Language Pack Service Pack 1
(KB2817427)
1.0
13 February 2014
NOTE1: Before you install this update, you must install Microsoft Office 2013 Service Pack 1 (KB2817430).
NOTE2: You do not have to apply update KB3054853 if you applied the April 14, 2015, update (KB2889923) or the May 12, 2015, security update (KB3039779) for Lync 2013 (Skype for Business).
Download
This is the client fix itself:
Installation
I'm still using Tom's great Hotfix installer. I threw all of the pre-req's in a folder (even though I'm already patched as per NOTE2) largely to see what would happen. As per NOTE1 though, you "must" have Office 2013 SP1 installed before you start.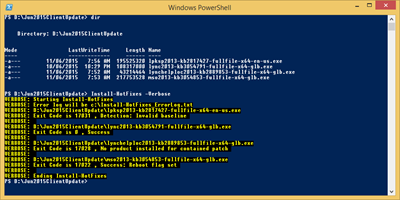 Notes:
The installation of this update itself (kb3054791) closed and re-launched Outlook
No idea why the mandated Language Pack Service Pack gave "invalid baseline"
I registered similar surprise that LyncHelpLoc reported "no product installed"
Reboot?
Nothing popped to say yes, but as the Office update wanted one apparently (in the image above) I gave it one.
Before / After
| | |
| --- | --- |
| Before | After |
| SfB 15.0.4719.1000 MSO 15.0.4719.1000 | SfB 15.0.4727.1000 MSO 15.0.4727.1001 |
| | |
Revision History
11th June: This is the initial post
– G.