I recently ran up the Lync client on a HP Compaq L2105tm touch-screen and was surprised by some of the extra functionality that's snuck in there.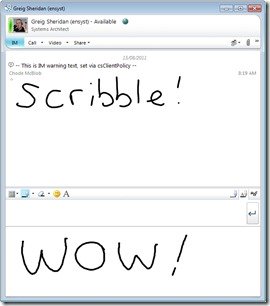 Check out the extra row of icons below my "scribble'. (Click the image for a larger popup). The 3 buttons on the RHS let you switch between drawing, OCR and alphabetical modes. It's not all that apparent, but these are separate tabs, and the arrangement underneath changes slightly with the different modes.
I drew 'scribble!' in drawing mode and when I I clicked the big return button it was sent as-is to the other end. (I didn't know the client did inbuilt whiteboard like this!)
In OCR mode I drew 'wow!", paused, and it translated my scribble, ready to be edited or transmitted. (Note that this IM box is about half the size of the screen so the fat-finger characters are big enough).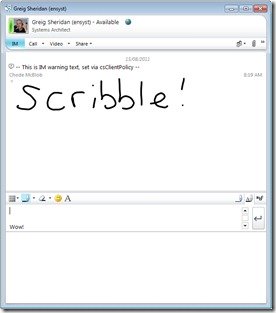 It's a bit slow to OCR a message like this, so I'm struggling to think of a real-world application for it. The third mode gives you the option of a large-size on-screen keyboard, which is probably the most useful mode.
– G.