Lync's Response Group (herein "RGS") is a great entry-level hunt group and small queue / contact centre application.
Out of the box (and included free with every Lync!) is lots of functionality that you can turn on and off on a per queue – or in Lync parlance, "workflow" – basis, including time-of-day, day-of-week & public holiday opening hours, recorded announcements, text-to-speech messages and even a multi-level speech-reco(!) IVR / auto-attendant / voice menu. There are also overflows based upon time in queue or number of callers – but I think you get the idea.
One of the Response Group's shortcomings is the real-time visibility is "poor", as is the historical reporting: the latter being limited to either 1 (or possibly 2) canned reports. I guess that Microsoft focussed on call handling – getting the calls to the agents, using an in-built queuing engine – and left "others" to add extra value on the user's desktop.
This is where Aussie software developer AdvaTel has stepped in and released "Espera" [Spanish for 'waiting'].
Espera is a client & server app combo. The server-side resides on a server configured in the Lync Topology as a trusted application server, reading RGS data directly from Lync's databases. It then cleverly sends this information to the client-side app through a permanently-established IM conversation. (More on that later).
There are two flavours of Espera: Real Time, and the new Reporter add-on.
Espera Real Time
Espera Real Time has been around for a while now. It provides a very familiar on-screen call centre "wallboard" or "agentboard". Customise the view for each agent or team, set the colours to change when thresholds are exceeded, re-size it (from vast to tiny), etc.
I like that you can hover over a particular field on the screen and a pop-up will give you more information:

In the above image I've hovered over the "Agents Logged in" and it tells me Greig's logged in – but he's busy. (The brown border is courtesy of Windows 8 BTW).
The supervisor or administrator can also broadcast messages to the wallboard of just one agent, or to a group.
The wallboard can be docked to either the top or bottom of the screen and it won't be over-written by any other application when they're maximised, ensuring the wall-board's status and its messages are always visible.
Another great feature in Espera is that it lets agents in Formal response groups log in and out at the press of a button – sparing them the tedious trip to the Response Group Settings web-page. (Those are the two "key" buttons in the Espera "side bar" below).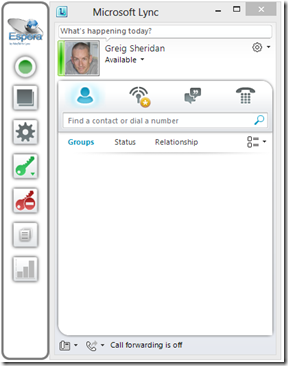 With the latest build the side bar becomes optional: just right-click the tray icon to show or hide it as required.
And of course anyone can run Espera – you don't need to belong to a queue to see how it's performing.
Espera Reporter
Reporter is the latest addition, and they've clearly been busy back-of-house, in some cases calculating custom reporting fields to fill in some of the gaps in the information captured by Lync.
Features of Reporter include:
Post-call wrap-up codes. This box pops after the agent has hung up the call, and the agent is held in a Busy state for a configurable period or until they've chosen a call type/code from the pick-list.

The green bar moves across the screen to indicate the time remaining to choose a code. (If the agent closes the box without making a selection it's reported as "N/R", so you can separately measure this)
Sample reports are included to get you started. You can Edit these or create your own new ones:

Agents
Agents by Queues
Queues
Queues by Agents
Wrap-up by agents

Reporting fields include:

Average: Queue Time, Ring Time, Speed of Answer ("ASA"), Talk Time, Wait Time
Longest Wait
Calls Answered
Calls Abandoned
% calls Abandoned
Total: Calls Answered, Logged-In Time, Abandoned, Received, Overflowed, Queued Time, Ring Time, Talk Time, Wait Time, Wrap-up Time, Outgoing Calls, Busy Time
… and more – but I think you get the idea!

Granularity down to a 15 minute interval. You can also generate reports per half-hour, hour, day, week or month
Lots of reporting design flexibility:

Tailor for on-screen (800×600, 1024×768, 1280×1024) or printed layouts (A3 and A4 in portrait or landscape only at this stage)
Add or suppress headers and footers
Add multiple tables/fields to the one report
Include a pie-chart
Embed images like the company logo

Schedule reports to be sent direct to printer, sent to e-mail recipients – or both. A nice inclusion here limits the domains it will mail reports to, so you can block them from being sent to hotmail accounts – or the competition

E-mailed reports are sent in either XPS or CSV format
There's also a Supervisor Screen, which lets you run any of the reports instantly, accessible with a single click. (This is the bottom icon in the side-bar in the earlier image of the Lync client). At the top of the right-hand column is the pull-down list (currently showing "Greig's wrap-up report"), and underneath that three radio buttons: Last 10 minutes, Last 60 minutes, Today. Note you can refine this in real-time by selecting/de-selecting Queues or Agents, and clicking Refresh.

Requirements & Licencing Model
Espera runs on a server that you've created in Lync as a trusted application. The server can't be used for an existing role in the Topology, so you can't co-reside it on an existing Front-End server, as you might with some UCMA apps. (This changes in Lync Server 2013 – "You can collocate a trusted application server with the Front End Server").
Espera uses a Lync account for the underlying transport between server and clients. Using Lync as the transport between the server and clients means you don't need any special firewall holes – it just works, even for remote users signed-in through the Edge!
You'll probably mail-enable the Espera account and use it as the sender's address for the e-mailed reports
There are no special SQL requirements – Espera uses SQL Express on its host machine (already installed by Lync during the setup process) to store the custom data fields it generates
Because Espera reads from the Lync databases, each instance of Espera is bound to a Front-End pool, so if you have multiple pools in a distributed topology, you'll need multiple App servers and Espera instances
Espera is licenced by the number of agents who'll run the Real Time wallboard. You need:

a server licence (starts at 20)
client licences (starts at 5 in increments of 5)
annual support
a separate Reporting licence (if you want to enjoy the optional reporting functionality)

Note that your software fee is a perpetual licence: you only need to pay for a maintenance fee to be eligible for support and upgrades
AdvaTel doesn't normally sell direct, preferring to sell through its network of resellers. If you contact them they'll be able to put you in touch with a reseller in your market
TCP Option
Espera very cleverly communicates between the client PCs and the server app using a hidden IM that's always established. This makes it VERY easy to install – you don't need to punch any holes in any firewalls, and it just works – even if you're remote. (So much for the mice being able to play while the cat's away!!)
Some users might however "see" this hidden conversation and find it annoying. It'll reveal itself if you try to exit Lync, popping the "Signing out of Lync will end all calls and conversations on this computer…" message when you don't seem to have any open. (So check "Do not show this message again"!). It'll also show if you're announcing calls before you transfer them, using the "transfer to current conversation" process:
It's also visible in your Conversation History folder too.
The fix is simple enough: AdvaTel's included an alternate TCP communication path that prevents either of the above messages popping. The downside is of course that you might need to add some extra firewall rules.
Summary
I think AdvaTel's found themselves a great niche here. Rather than inventing a new routing engine of their own (like Geomant, prairieFyre and others have done), they've strategically left the heavy lifting to Microsoft, all still taking place inside Lync, and added the client-side and supervisory / administrative interface that the RGS lacks.
Some of the Reporter output is a bit buggy – but I'm playing with a Beta build. (The GA release will be out soon).
At the moment it doesn't report calls at the Workflow level (only after they've dropped through to a queue), so you might need to reorganise your call flow structure to maximise the reporting benefit. It is hoped that Workflow reports will be added in a future update.
The client works on XP, 7 and my x64 Windows 8 machine, so they seem to have nailed that. Support for Lync 2013 is coming too…
Its requirements aren't high and my customers to date have found it very favourably priced. It installs in next to no time, the installation PDF is very detailed, and AdvaTel also provides an assisted installation option.
AdvaTel kindly provided me with a licence for Espera. You can download a demo version from their website, and if you're still wanting to try before you buy, they even have time-bombed trial licence keys.
If you have a spare 3 minutes, there's a great demo on YouTube.